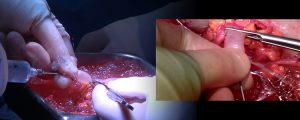 Transplant Recipient Kidney from Living Donor
Massachusetts General Hospital
Nahel Elias, M.D. F.A.C.S
Professor of Surgery, Harvard Medical School
The patient needs a kidney transplant due to advanced stage kidney disease – specifically secondary diabetes, the most common cause of kidney disease in the US. Dr. Elias heterotopically transplants a kidney from the patient's living sister into the left iliac fossa.